Cervical Disc Replacement Specialist with Locations in
California, Florida and Texas
Anterior Cervical Discectomy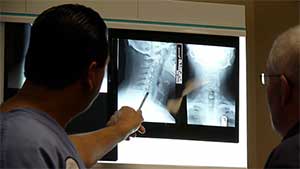 The benefits of anterior cervical discectomy and fusion include:
Decreased pain
Alleviation of numbness and weakness in the hands and arms
Improved range of motion
How it Works
Anterior cervical discectomy and fusion follows this outline:
Small incision made at the front of the neck
Targeted disc(s) removed
Pressure removed from the spinal nerves or spinal cord by eliminating the source of the compression
Bone graft placed between the adjacent vertebrae
Schedule Your Consultation Today!
Doctor Saqib Siddiqui attracts patients from across the country due to his expertise in minimally invasive, cutting-edge spine surgery solutions. Procedures that used to be very complicated and invasive are now much less stressful and offer faster recovery times. Many of our patients recover very quickly and have low levels of post-op pain.
At The Spine Center, we believe a well-informed patient is the best patient. That's why Doctor Saqib Siddiqui takes the time to explain all of your treatment options, the benefits and risks of the procedure, and to answer all your questions as well.
Call (210) 265-1116 or click here to schedule your appointment today!
Locations in California, Florida and Texas.