What is an Epidural Steroid Injection?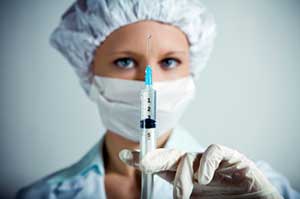 Epidural steroid injection is a minimally invasive pain relief procedure that treats spinal nerve irritation and compression. Whenever the nerves in the spine become pinched or compressed, you experience significant pain. This pain can be so much that your mobility suffers, forcing you to become less active.
At The Spine Center, we're committed to relieving your pain so you can enjoy a more active life. The injection we offer reduces inflammation and pain.
The epidural steroid injection procedure is fast and easy. It only takes a few minutes, and many of our patients can't believe just how quick and hassle-free the procedure really is. With Dr. Saqib Siddiqui's experience and gentle touch, the procedure often has low levels of discomfort.
Frequently Asked Questions about Epidural Steroid Injection
To help you better understand this treatment option, we've provided answers to some of the most common questions we get about epidural steroid injection:
Do epidural steroid injections hurt?
While the procedure does involve a needle penetrating into the deeper tissues, we use a local anesthetic to numb the area. This minimizes the pain, leaving only mild discomfort.
How does it work?
The steroid injected helps reduce inflammation of nerves in the epidural space. As the swelling goes down, your pain will begin to go away.
How long does a epidural steroid injection last?
Each case is completely different, and everyone responds differently to epidural steroid injection. The pain relief may last from several days to a few months.
When can I return to normal activities?
"Normal activity" varies greatly from one person to the next. You should be able to return to work the day after your procedure, but Doctor Saqib Siddiqui will be able to offer you more specific guidelines after your procedure.
Request Your Appointment
If you're interested in treating your pain with an epidural steroid injection, call (210) 265-1116 or contact us online to schedule your appointment today!
Locations in California, Florida and Texas.